Guide-book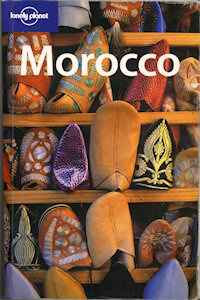 Lonely Planet
Morocco
ISBN: 1-74059-678-1
7th Edition february 2005
Be inspired by the adventure of Morocco - take a camel trek through the Sahara, hunt out bargains in an exotic souq, soak up the buzz of Marakesh then catch some waves off a prestine Atlantic beach.
Experience the colour, life and lure of the Maghreb with our comprehensive guide.
Stay in Style; on any budget in cosy kasbahs or glam riads
Get Around: 97 detailed maps of cities and more remote regions
Travel your Tastebuds; with the enticing chapter on Moroccan food and drink
Explore; the insider's Marakesh with the walking tour through then souqs and tips on this happening city
Get High; above it al - the trekking chapter gives advice on the best mountain journeys
Travelmap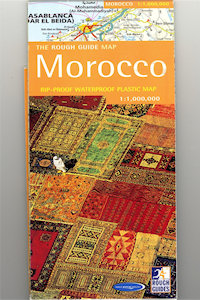 The Rough Guide Map
Morocco
ISBN: 1-84353-215-8
Explore the sands and souks of Morocco with an 'indestructible' companion. Printed on waterproof and 'rip-proof' polyart paper, it will survive folding and re-folding, spilt drinks and even sandstorms.
Awarded Best Map by the International Map Trade Association, it features clear, modern mapping, a detailed index of places and points of interest and an easy-to-read key.
Source-book
Te gast in
Marokko
ISBN: 90-76888-55-8
september 2003
Veel mensen denken bij Marokko aan een land vol Oosterse mystiek. Met middeleeuwse steden, een wirwar aan steegjes en drukke, gezellige souks. En daarnaast de ruige bergen en woestijnen waar trotse Berbers een primitief bestaan leiden.
Een dergelijk beeld gaat echter slechts ten dele op. Steden als Rabat en Casablanca, met hun villes nouvelles, brede boulevards, luxe winkels en drukke verkeer doen westers aan. De nieuwe en oude steden met hun talloze winkeltjes en markten bieden volop gelegenheid om kennis te maken met het alledaagse leven
Vanaf een terrassje kun je onder het genot van een glaasje muntthee de veelzijdigheid van Marokko aan je voorbij laten gaan.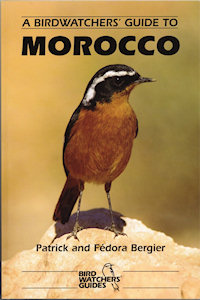 Patrick and Fedora Bergier
A Birdwatcher's Guide to Morocco
ISBN: 1-871104-09-2
2003
Morocco is a paradise for birdwatchers with its coasts, islands, wadis, plains, forests, mountains and deserts creating conditions that are often very different from those found in Europe.
The richness of these habitats is clearly illustrated by the 452 species which have been recorded so far. Fifteen years have passed since the publication of the first edition of this book. This is a very short period in the dynamics of bird communities, but a very long period in a country that has developed so quickly. The Government is encouraging development and tourism, for example in the Atlantic West Sahara, which opens up great new sites for birdwatchers.
The most important and easily accessible of these new sites have been included in this second edition, and the original 15 sites have been increased to at least 50.